Social media training gives your team the confidence, skills, tips and tools to get results with social strategy and content.
I've provided social media training to publishers, charities and other organizations for 15 years. I still am – but online!
Digital has become more important than ever, as every aspect of life has moved online. It's never been more important to make sure everyone in your team is up to speed with social media marketing.
Benefits of social media training
Your marketing team needs the skills, tools and confidence to use social media effectively. This will help them build audiences, engage readers, run campaigns – and sell books. Following social media training, participants will typically have the following learning outcomes:
Knowledge of best practice for a range of social platforms and tools
Understanding of which platforms to use to reach the right audiences
Confidence to develop social media marketing strategies and campaigns
Tools to create effective content
Skills to plan and manage content for increased engagement, traffic and sales
Ability to critically assess results to ensure ROI and improve performance
Ideas for how to apply social media marketing to your own campaigns and lists.
About me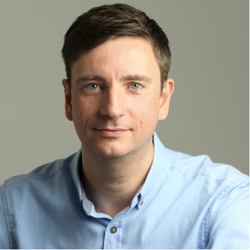 I'm Jon Reed, the founder of Reed Media. I've been helping publishers, charities and other organizations with their social media marketing for around 15 years (since the dawn of social media!) I've run social media training for clients including Bloomsbury, Pearson, SAGE, CUP, OUP, HarperCollins, Jessica Kingsley Publishers and the BIG Lottery Fund. I'm also the author of Get Up to Speed with Online Marketing (Pearson, 2013), founder of Publishing Talk, an educational website for authors, and Director, Social Media Strategy, at Pilao Labs.
I teach on the MA in Digital Media Management at Birkbeck, University of London, and have guest lectured on social media at Bath Spa, Brunel, City, Kingston and UCL. I've also run Guardian Masterclasses on social media marketing.
I'm now an experienced online trainer. During lockdown I've created online courses, run live Zoom training and lectures, and hosted online Zoom masterclasses for authors. Here are some of the options.
Bespoke online course
Online training can be tailored to your needs, in terms of content, schedule and format. In 2020 I delivered an online course in social media for Jessica Kingsley Publishers in place of some planned in-house training. This consisted of seven modules, taken remotely (in the UK and US), over a two-month period, followed by a live Zoom session for a Q&A/discussion.
The teaching platform I use is Teachable – which is a great, user-friendly way to deliver and consume video lectures and handouts. Participants can complete lectures and modules at their own pace. This is ideal when people are working from home, and may have staggered working patterns including periods of furlough.
After completing a social media audit for JKP at the end of 2019, Jon worked with me to provide a flexible online training program over seven weeks. This allowed the team to fit the weekly training (via video and online materials) around busy 'new normal' workloads. It also allowed everyone the time to digest and discuss the information being presented to us, before having a collective group discussion with Jon at the end of the course.

Members of the team were able to experiment with what they were learning as the course was progressing. It was a pleasure to work with Jon in setting up this training for the team, as he was open to ideas and the needs of the team throughout, and approached both the content covered and the delivery method with thoughtfulness and expertise. We have already seen good results, particularly on Instagram where tips from Jon have helped increase followers and engagement.
– Tamara Navaratnam, Head of Marketing, Jessica Kingsley Publishers
Your online course will be delivered as a 'private' course via my Teachable Publishing Talk School. You'll get a unique URL for your course, and your participants will sign in securely with a password. Your course is unique to you.
Live Zoom sessions
I produced a social media audit for Bloomsbury Publishing in 2020, and am following that up with social media training. This takes place in May 2021 and is built around three weekly live Zoom sessions rather than an online course.
I highly recommend working with Jon as THE expert on social media in publishing. He produced a social media report for Bloomsbury's academic division. Jon 'gets' publishing (and academic publishing) and considers the resources available, so his recommendations are highly practical and realistic. My team refer to the 'Jon Reed report' weekly, and follow the tips as part of departmental and account-level strategy, thus increasing our engagement levels across Twitter, Facebook and Instagram. He's also just really easy to work with, approachable and jargon-free!
– Jennifer Howell, Global Academic Marketing Director, Bloomsbury Publishing
Mix and match
A blend of online course and live teaching via Zoom often works well. That's what happened, in varying degrees, with these two course examples. The JKP training was an online course, delivered one module per week for seven weeks. The team also had their own internal online meeting in between sessions to discuss, reflect on and apply the material. And we all came together for a Zoom Q&A and discussion at the end.
The Bloomsbury course is the other way around: three weekly live Zoom sessions, also with team meetings in between. But those sessions are recorded, and the videos will appear in a private online course for later (re)viewing. The online course platform also hosts downloadable handouts and a PDF of the slides for each session. Plus I'm setting a 'homework' assignment at the end of the first two sessions. This helps maximize the time available. This approach is also the one I take with my online lecturing at Birkbeck.
So you can have a combination of:
Online course – your bespoke, private online course, with videos and handouts, to take at your own pace
Live Zoom sessions – opportunity for live discussion, exercises, activities and Q&A
Your own internal online meetings – to discuss, relect on and apply the material in between sessions
Zoom Q&A – e.g. once an online course has been completed, to discuss any questions arising.
It's good to break things up if possible. I'd normally teach a face-to-face course for a whole day or half-day. However, no one wants to spend that long staring at a screen in one go!
Handouts and resources
Depending on what your course covers, handouts and resources may include:
A PDF handout of the slides
Social Media Toolkit
One-Page Social Media Marketing Plan Template
Social Media Metrics Template (Excel spreadsheet)
Content Strategy Template (Excel spreadsheet)
What social media topics can I learn?
Your training can be bespoke to your needs. Here are a few of the things I've taught over the years:
Social Media Marketing – at whatever level is needed, and with whatever focus you want
Social Ads – How to create effective ads on Facebook, Instagram and other platforms
Pay Per Click Marketing – Google Ads and/or Social Ads. Previous clients include SAGE and Pearson.
Writing for Social Media – Write readable and SEO-friendly blog posts, plus social ads, Facebook posts, tweets, Instagram descriptions etc. This is also a subject I've taught at UCL.
Blogging – strategy, creation, writing, marketing and monetization
Video Production – a practical one-day course where participants plan, film, edit and output their own videos. Previous clients include CUP.
I'm interested! What next?
Great! Let's have a chat. Simply get in touch with an idea of what you'd like from me.
Want more detail? Typically, this is what happens next:
Initial scoping conversation by email, phone or Zoom, to determine how I can best help you.
Training proposal. I'll send you a training proposal, including learning outcomes and proposed course outline. I'll also quote a fee at this stage, but we'll already have discussed budgets.
Revised training proposal. You may want to tweak the course content, dates, times etc. at this stage, in discussion with colleagues. In which case I'll update and revise the training proposal.
Save the date! Once the dates and times are agreed, communicate these to your staff. I can provide agendas too at this stage if required.
Pre-course registration. There may be nothing you need to do before the course – other than click on a Zoom link. Or you might need to ask staff to register with the online teaching platform I use.
Pre-course work. There might be none. But there may be a short pre-course exercise or questionnaire for participants to complete in advance. This helps us maximize the time available.
Training day(s). I hope you enjoy the training and find it useful! If your training is split over multiple dates, there may be 'homework' assignments to do in between sessions.
Follow-up questions. There will be an opportunity for questions during the training. But I'm also usually available for two weeks' follow-up support by email.
Feedback. I may send a short feedback questionnaire, and/or ask for a LinkedIn recommendation, if you found the training helpful.
Enjoy your new, enhanced digital skills and a confident, motivated team!
Social media training testimonials
Here are a few more quotations from past training clients:
Jon has worked with us over the past several years on staff trainings, analysis of social media strategy and performance, and recommendations for future growth. He balances industry knowledge with social media expertise, and is an invaluable partner to our social media program.
– Kelly Heida, SAGE Publishing
Very useful – packed with exactly the kind of information I wanted to know and learn.
– Harriet Seymour, Marketing Manager, Oxford University Press
The small workshop format allowed for a good exchange of ideas and discussion of the practicalities of each option. It felt very targeted to our needs. It was an excellent event which has fired up my enthusiasm for social media.
– Julia Garvey, former Marketing Manager, Rising Stars
Fabulous workshop – packed with really helpful, easily accessible information, ideas and practical advice.
– Melisa Young, formerly Gower Marketing, Ashgate Publishing
Jon ran a two-hour workshop for 30+ publishers at the Inpress Digital Conference on social media marketing. The bespoke training session he delivered was perfectly pitched, with a great balance of information, advice and useful tips. All the attendees left inspired and motivated.
– Rachael Ogden, former Managing Director, InPress
Jon provided invaluable training to myself and my marketing colleagues at Pearson through a one-day workshop. His knowledge, pre and post-workshop support as well as understanding of the needs of our business ensured the workshop was a huge success and very inspirational.
– Rachel Wakeley, formerly Pearson Education
Get in touch
Get in touch with me to find out more.